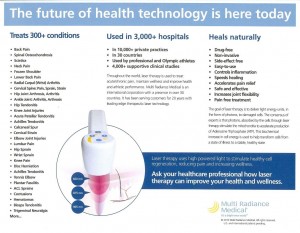 Our office is now offering Cold Laser Therapy treatments! Cold Laser therapy is another non-invasive, drug-free, and highly effective treatment our Doctors use to help reduce pain and speed up the recovery process. Cold laser treatments help relieve pain associated with soft tissue and sports injuries, inflammatory conditions, repetitive stress injuries, and also back and joint problems.
The super pulsed infrared laser penetrates to target tissues up to 10-13 cm and exerts a powerful stimulating influences upon blood microcirculation. The different settings for the cold laser help reduce pain, reduce swelling and edema, and help with tissue repair.
What to expect:
Laser treatment is FDA cleared and enables patients to have an alternative to drugs and surgery. Cold laser treatments take just minutes depending on the condition, and it's pain free!!! Patients generally see results after 2 to 6 treatments.
Patient Benefits:
Non-Invasive
Safe and Side Effects Free
Treats Wide Range of Conditions
No Anesthetics Required
Relieves pain and stiffness
Proven Results
Restored mobility and quality of life
Often makes surgical interventions unnecessary
For more information or to schedule an appointment call our office. (316)721.3003